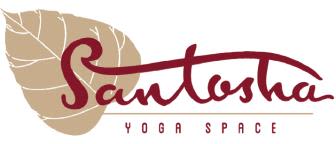 Santosha Yoga Space Class Schedule
---
Welcome to Santosha :)  Please use this page to book your class.  To book a course, tap on the first class of the series.  To buy any pass, tap the Sign In button above.
♡ IMPORTANT NOTES
1. PLEASE CREATE AN ACCOUNT *BEFORE* BUYING A PASS. Otherwise, your pass will be eaten by the ether, and you won't be able to book a class with it! (And if you do accidentally do this, please contact Ally - details below).
2. When booking a class (this does not apply to courses & series): Please ensure that you first purchase your pass, AND use it to book in for your specific class/workshop. These are two separate steps, the pass alone doesn't book you in. Purchasing a multi-pass, unlimited pass or membership saves you the pass-purchasing step each time.
3. By creating an account, you'll receive the Santosha newsletter. If you would prefer not to receive these occasional emails, you can simply unsubscribe when you receive the first one. If you unsubscribe from the mailout list, you will still receive emails about your individual bookings and passes.
Feel free to call/text Ally on 0416 564 808, or email ally@santoshayoga.com.au if you have any questions. You can also chat with your teacher if you're unsure about anything. Look forward to seeing you in class :)
---
| | | | |
| --- | --- | --- | --- |
| Start Time | Class | | Instructor |
Friday - March 23
Saturday - March 24
Sunday - March 25
Monday - March 26
Tuesday - March 27
Wednesday - March 28
9:30am
Over 50s Yoga


1 hour 15 minutes

11 spots left
Caroline Brown
5:00pm
Beginners 70min


1 hour 10 minutes

15 spots left
Juliette McConachy
6:30pm
General 75min


1 hour 15 minutes

16 spots left
Juliette McConachy
Thursday - March 29
Friday - March 30
6:00am

CLASS CANCELLED





1 hour

Kim Shillitoe
9:30am

CLASS CANCELLED





1 hour 15 minutes

Edwina Kempe
5:30pm

CLASS CANCELLED





1 hour

Hannah Reardon-Smith
Saturday - March 31
7:00am

CLASS CANCELLED





1 hour 15 minutes

Diane Cousineau
9:00am

CLASS CANCELLED





1 hour 30 minutes

Diane Cousineau
Sunday - April 1
8:00am

CLASS CANCELLED





1 hour 30 minutes

Wendy Reid
4:30pm

CLASS CANCELLED





2 hours

Zen Spokes
Monday - April 2
6:00am

CLASS CANCELLED





1 hour

Susie Garden
8:00am

CLASS CANCELLED





1 hour 10 minutes

Jaimee Shillitoe
9:30am

CLASS CANCELLED





1 hour 15 minutes

Jaimee Shillitoe
6:30pm
Beginners/General 75min


1 hour 15 minutes

13 spots left
Caroline Brown
Tuesday - April 3
Wednesday - April 4
9:30am
Over 50s Yoga


1 hour 15 minutes

13 spots left
Caroline Brown
5:00pm
Beginners 70min


1 hour 10 minutes

16 spots left
Juliette McConachy
6:30pm
General 75min


1 hour 15 minutes

16 spots left
Juliette McConachy
Thursday - April 5
Friday - April 6
Saturday - April 7
Sunday - April 8
Monday - April 9
Tuesday - April 10
Wednesday - April 11
9:30am
Over 50s Yoga


1 hour 15 minutes

14 spots left
Caroline Brown
5:00pm
Beginners 70min


1 hour 10 minutes

16 spots left
Juliette McConachy
6:30pm
General 75min


1 hour 15 minutes

16 spots left
Juliette McConachy
Thursday - April 12
Friday - April 13
Saturday - April 14
Sunday - April 15
Monday - April 16
Tuesday - April 17
Wednesday - April 18
9:30am
Over 50s Yoga


1 hour 15 minutes

15 spots left
Caroline Brown
5:00pm
Beginners 70min


1 hour 10 minutes

16 spots left
Juliette McConachy
6:30pm
General 75min


1 hour 15 minutes

16 spots left
Juliette McConachy
Thursday - April 19
Friday - April 20
Saturday - April 21
Sunday - April 22
Monday - April 23
Tuesday - April 24
Wednesday - April 25
9:30am
Over 50s Yoga


1 hour 15 minutes

16 spots left
Caroline Brown
5:00pm
Beginners 70min


1 hour 10 minutes

16 spots left
Juliette McConachy
6:30pm
General 75min


1 hour 15 minutes

16 spots left
Juliette McConachy
Thursday - April 26
Friday - April 27
Saturday - April 28
Sunday - April 29
Monday - April 30
Tuesday - May 1
Wednesday - May 2
9:30am
Over 50s Yoga


1 hour 15 minutes

16 spots left
Caroline Brown
5:00pm
Beginners 70min


1 hour 10 minutes

16 spots left
Juliette McConachy
6:30pm
General 75min


1 hour 15 minutes

16 spots left
Juliette McConachy
Thursday - May 3
Friday - May 4
Saturday - May 5
Sunday - May 6
Monday - May 7
Tuesday - May 8
Wednesday - May 9
9:30am
Over 50s Yoga


1 hour 15 minutes

16 spots left
Caroline Brown
5:00pm
Beginners 70min


1 hour 10 minutes

16 spots left
Juliette McConachy
6:30pm
General 75min


1 hour 15 minutes

16 spots left
Juliette McConachy
Thursday - May 10
Friday - May 11
Saturday - May 12
Sunday - May 13
Monday - May 14
Tuesday - May 15
Wednesday - May 16
9:30am
Over 50s Yoga


1 hour 15 minutes

16 spots left
Caroline Brown
5:00pm
Beginners 70min


1 hour 10 minutes

16 spots left
Juliette McConachy
6:30pm
General 75min


1 hour 15 minutes

16 spots left
Juliette McConachy
Thursday - May 17
Friday - May 18
Saturday - May 19
Sunday - May 20
Monday - May 21
Tuesday - May 22
Wednesday - May 23
9:30am
Over 50s Yoga


1 hour 15 minutes

16 spots left
Caroline Brown
5:00pm
Beginners 70min


1 hour 10 minutes

16 spots left
Juliette McConachy
6:30pm
General 75min


1 hour 15 minutes

16 spots left
Juliette McConachy
Thursday - May 24
Friday - May 25
Saturday - May 26
Sunday - May 27
Monday - May 28
Tuesday - May 29
Wednesday - May 30
9:30am
Over 50s Yoga


1 hour 15 minutes

16 spots left
Caroline Brown
5:00pm
Beginners 70min


1 hour 10 minutes

16 spots left
Juliette McConachy
6:30pm
General 75min


1 hour 15 minutes

16 spots left
Juliette McConachy
Thursday - May 31
Friday - June 1
Saturday - June 2
Sunday - June 3
Monday - June 4
Tuesday - June 5
Wednesday - June 6
9:30am
Over 50s Yoga


1 hour 15 minutes

16 spots left
Caroline Brown
5:00pm
Beginners 70min


1 hour 10 minutes

16 spots left
Juliette McConachy
6:30pm
General 75min


1 hour 15 minutes

16 spots left
Juliette McConachy
Thursday - June 7
Friday - June 8
Saturday - June 9
Sunday - June 10
Monday - June 11
Tuesday - June 12
Wednesday - June 13
9:30am
Over 50s Yoga


1 hour 15 minutes

16 spots left
Caroline Brown
5:00pm
Beginners 70min


1 hour 10 minutes

16 spots left
Juliette McConachy
6:30pm
General 75min


1 hour 15 minutes

16 spots left
Juliette McConachy
Thursday - June 14
Friday - June 15
Saturday - June 16
Sunday - June 17
Monday - June 18
Tuesday - June 19
Wednesday - June 20
9:30am
Over 50s Yoga


1 hour 15 minutes

16 spots left
Caroline Brown
5:00pm
Beginners 70min


1 hour 10 minutes

16 spots left
Juliette McConachy
6:30pm
General 75min


1 hour 15 minutes

16 spots left
Juliette McConachy
Thursday - June 21
Friday - June 22
Saturday - June 23
Sunday - June 24
Monday - June 25
Tuesday - June 26
Wednesday - June 27
9:30am
Over 50s Yoga


1 hour 15 minutes

16 spots left
Caroline Brown
5:00pm
Beginners 70min


1 hour 10 minutes

16 spots left
Juliette McConachy
6:30pm
General 75min


1 hour 15 minutes

16 spots left
Juliette McConachy
Thursday - June 28
Friday - June 29
Saturday - June 30
Sunday - July 1
Monday - July 2
Tuesday - July 3
Wednesday - July 4
9:30am
Over 50s Yoga


1 hour 15 minutes

16 spots left
Caroline Brown
5:00pm
Beginners 70min


1 hour 10 minutes

16 spots left
Juliette McConachy
6:30pm
General 75min


1 hour 15 minutes

16 spots left
Juliette McConachy
Thursday - July 5
Friday - July 6
Saturday - July 7
Sunday - July 8
Monday - July 9
Tuesday - July 10
Wednesday - July 11
9:30am
Over 50s Yoga


1 hour 15 minutes

16 spots left
Caroline Brown
5:00pm
Beginners 70min


1 hour 10 minutes

16 spots left
Juliette McConachy
6:30pm
General 75min


1 hour 15 minutes

16 spots left
Juliette McConachy
Thursday - July 12
Friday - July 13
Saturday - July 14
Sunday - July 15
Monday - July 16
Tuesday - July 17
Wednesday - July 18
9:30am
Over 50s Yoga


1 hour 15 minutes

16 spots left
Caroline Brown
5:00pm
Beginners 70min


1 hour 10 minutes

16 spots left
Juliette McConachy
6:30pm
General 75min


1 hour 15 minutes

16 spots left
Juliette McConachy
Thursday - July 19
Friday - July 20
Saturday - July 21
Sunday - July 22
Monday - July 23
Tuesday - July 24
Wednesday - July 25
9:30am
Over 50s Yoga


1 hour 15 minutes

16 spots left
Caroline Brown
5:00pm
Beginners 70min


1 hour 10 minutes

16 spots left
Juliette McConachy
6:30pm
General 75min


1 hour 15 minutes

16 spots left
Juliette McConachy
Thursday - July 26
Friday - July 27
Saturday - July 28
Sunday - July 29
Monday - July 30
Tuesday - July 31
Wednesday - August 1
9:30am
Over 50s Yoga


1 hour 15 minutes

16 spots left
Caroline Brown
5:00pm
Beginners 70min


1 hour 10 minutes

16 spots left
Juliette McConachy
6:30pm
General 75min


1 hour 15 minutes

16 spots left
Juliette McConachy
Thursday - August 2
Friday - August 3
Saturday - August 4
Sunday - August 5
Monday - August 6
Tuesday - August 7
Wednesday - August 8
9:30am
Over 50s Yoga


1 hour 15 minutes

16 spots left
Caroline Brown
5:00pm
Beginners 70min


1 hour 10 minutes

16 spots left
Juliette McConachy
6:30pm
General 75min


1 hour 15 minutes

16 spots left
Juliette McConachy
Thursday - August 9
Friday - August 10
Saturday - August 11
Sunday - August 12
Monday - August 13
Tuesday - August 14
Wednesday - August 15
9:30am
Over 50s Yoga


1 hour 15 minutes

16 spots left
Caroline Brown
5:00pm
Beginners 70min


1 hour 10 minutes

16 spots left
Juliette McConachy
6:30pm
General 75min


1 hour 15 minutes

16 spots left
Juliette McConachy
Thursday - August 16
Friday - August 17
Saturday - August 18
Sunday - August 19
Monday - August 20
Tuesday - August 21
Wednesday - August 22
9:30am
Over 50s Yoga


1 hour 15 minutes

16 spots left
Caroline Brown
5:00pm
Beginners 70min


1 hour 10 minutes

16 spots left
Juliette McConachy
6:30pm
General 75min


1 hour 15 minutes

16 spots left
Juliette McConachy
Thursday - August 23
Friday - August 24
Saturday - August 25
Sunday - August 26
Monday - August 27
Tuesday - August 28
Wednesday - August 29
9:30am
Over 50s Yoga


1 hour 15 minutes

16 spots left
Caroline Brown
5:00pm
Beginners 70min


1 hour 10 minutes

16 spots left
Juliette McConachy
6:30pm
General 75min


1 hour 15 minutes

16 spots left
Juliette McConachy
Thursday - August 30
Friday - August 31
Saturday - September 1
Sunday - September 2
Monday - September 3
Tuesday - September 4
Wednesday - September 5
9:30am
Over 50s Yoga


1 hour 15 minutes

16 spots left
Caroline Brown
5:00pm
Beginners 70min


1 hour 10 minutes

16 spots left
Juliette McConachy
6:30pm
General 75min


1 hour 15 minutes

16 spots left
Juliette McConachy
Thursday - September 6
Friday - September 7
Saturday - September 8
Sunday - September 9
Monday - September 10
Tuesday - September 11
Wednesday - September 12
9:30am
Over 50s Yoga


1 hour 15 minutes

16 spots left
Caroline Brown
5:00pm
Beginners 70min


1 hour 10 minutes

16 spots left
Juliette McConachy
6:30pm
General 75min


1 hour 15 minutes

16 spots left
Juliette McConachy
Thursday - September 13
Friday - September 14
Saturday - September 15
Sunday - September 16
Monday - September 17
Tuesday - September 18
---
Online class reservations and pass tracking by Punchpass
Santosha Yoga Space Schedule